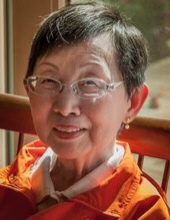 Obituary for Louise T. Su
Louise Tuzz-Yun Su (neé Cherng) passed away on March 20, 2018, at the age of 77 years after a long battle with breast cancer and Parkinson's disease. She was a longtime resident of Holmdel, New Jersey.

Louise was born in Tainan, Taiwan, in 1941 to a family of merchants. One of eight children, she graduated from the National Taiwan University with a degree in Foreign Languages and Literature. When she was 24-years old, Louise emigrated to the United States to pursue a master's degree in Librarianship at Emory University. She continued her graduate studies while raising her family, and earned her doctoral degree in Communication, Information, and Library Studies from Rutgers University in 1991 at the age of 49. Louise taught as an assistant professor at the School of Library and Information Studies of the University of Pittsburgh from 1993 to 2000. She later returned to Taiwan to serve on the Board of Trustees and teach at Cherng Guang Junior High School, which was founded by her family, in Tainan. During her retirement, Louise enjoyed walking in Holmdel Park, playing the piano, and listening to classical music.

Louise was a woman ahead of her time and she will be lovingly remembered for her sharp wit, perseverance, and grace. She is survived by her husband of 53 years, Dr. Chen-Pang Su; her son Owen and his wife Nancy of Dix Hills, NY, and their 2 daughters, Lillian and Ava; and her daughter Leslie and her husband Gene of Andover, MA, and their son Maximus.

In keeping with her wishes, no services will be held. Memorial donations in memory of Louise can be made to The Michael J. Fox Foundation at www.michaeljfox.org.